My Alaska Motorcycle Trip…
10,000 Miles and 7 Weeks
of Rugged Travel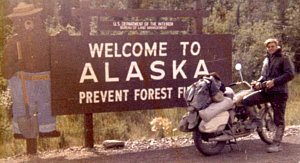 My Alaska motorcycle trip took place during the summer and early fall of 1968.
For more than seven weeks I traveled from my home in New Jersey, across the United States and Canada to the beginning of the Alaskan Highway in British Columbia. At that time, the Alcan was mostly a twisty 1,500-mile-long dirt road.
I took the Alcan to the end in Fairbanks, then I traveled by air and on foot above the Arctic Circle.
My Alaska motorcycle trip was the journey trip of a lifetime, but it reached a point when I thought it would never end.
Here's my story…
North to Alaska
I looked into my rearview mirror and saw the red flashing lights rapidly approaching.
The patrol car pulled up close behind and let loose with a quick squall from its siren.
Any hope that the trooper was aiming for another driver quickly dissipated.
I rolled my motorcycle slowly to a stop on the highway's gravel shoulder, turned off the engine and planted the kickstand on a solid patch of earth.
Getting pulled over by the police usually wrenches my stomach, but on this occasion, I felt a mixture of curiosity and fatalism.
I was traveling east along Route 1 in Manitoba, Canada, heading toward the city of Brandon about 50 miles away.
I hadn't been speeding or driving recklessly, so I had nothing to fear in the way of moving violations.
However, after everything else that had happened during this long Alaska motorcycle journey, it seemed inevitable that I should get pulled over for something.
Perhaps my New Jersey license plates made me stand out from the other vehicles. Also, this was 1968; long distance riders with heavily laden motorcycles usually attracted attention.
The Royal Canadian Mounted Police officer who stepped from the patrol car could have come directly from central casting in Hollywood.
He wore the Mounties' traditional flat-brimmed hat and high boots.
A wide leather belt holding a holstered sidearm was buckled over a well-tailored, red-trimmed tunic. Of course, he was tall.
While he walked purposefully toward me, I reached into my leather coat for my wallet then dug out my license and registration.
"How are you doing," he asked.
"Fine," I said.
"Where are you headed?"
"To Brandon then eventually back to New Jersey."
"Where are you coming from?"
"Alaska."
"Looks like it."
With that, he headed back to the patrol car with my license and registration in his hand. Then, inside the car, I saw him speaking into the two-way radio.
I cooled my heels.
Why an Alaska motorcycle trip?
I'd been on the road for more than seven weeks. What started out as an Alaska motorcycle trip of a lifetime had turned into the trip that refused to let me go home.
There's a saying among motorcycle riders that states, "The ride is the reason." The message being, you don't really need a specific destination or rationale to hop onto your motorcycle and take a trip.
However, when I decided to chance an Alaska motorcycle trip, I realized I needed a logical explanation to squelch the question: "Why the heck do you want to ride 10,000 miles on a motorcycle from New Jersey to Alaska and back?"
As a college journalism student, the reason I conjured up for my ride was to find and photograph old gold mining camps in Alaska.
Then I'd write articles describing these rugged areas as they appeared to me -- comparing them with historic images found in old books and newspapers. I'd tell about the Alaskan gold rush and the tough people who lived through it.
I wasn't at all sure what I would find in Alaska, but I had my plan and my imagination.
I loaded two saddlebags with clothing, tools, spare parts and maps, and strapped my tent, sleeping bag and other camping equipment behind me on the seat of my 650 cc Triumph motorcycle.
Late in July, I launched my Alaska motorcycle odyssey.
I left New Jersey and headed north into New York then into Canada. Seven days later, I reached Dawson Creek, British Columbia -- the starting point of the Alaskan Highway.
The long and winding Alaskan Highway
In 1968, this 1,523-mile long route from Dawson Creek to Fairbanks, Alaska, was still mostly gravel.
Built originally as a military access road, the highway meandered over mountains and valleys, across numerous rivers and through miles of muskeg swamp.
The steep, banked turns and ever-changing gravel road surface caused my wheels to chatter around every corner and along each straight.
Semi-trailer trucks thundered relentlessly at break-neck speeds up and down this two-lane road.
I learned quickly to let them pass when they approached from behind, and to move far to the right when I saw them coming from the opposite direction.
Either way, I knew they would shower me with dirt and rocks when they went by.
Occasionally, one would launch a fist-sized stone that would hit me square in the chest or shoulder, glance off of my helmet or clang against the aluminum shield covering the motorcycle's headlight.
An Alaska motorcycle trip covering the length of that unpredictable road was a real challenge.
After six days on the Alaskan Highway, I reached Fairbanks. From there I continued 160 miles farther north to the small village of Circle located on the west bank of the Yukon River. At that time, this was the northern-most point anyone could reach via the contiguous North American road system.
Traveling above the Arctic Circle
I'd learned earlier that a small air shuttle service would fly me from Circle about 100 miles north to the village of Fort Yukon, which sits just above the Arctic Circle on the northern-most bend of the Yukon River.
So I parked my motorcycle in Circle, removed my camping gear and other necessities and caught a flight to Fort Yukon.
My Alaska motorcycle trip had taken to the air.
After landing in Fort Yukon, I visited the local general store and bought a supply of food to take with me when I ventured up river into the former gold rush area.
I also made a radio-telephone call from the airport to my parents back in New Jersey. I wanted to let them know they would not be hearing from me for quite a few days because I was heading into a wilderness area.
From Fort Yukon, I hiked about 15 miles farther north and set up camp on the bank of the Porcupine River.
There were quite a few bears in the area, so I erected a platform about 10 feet off the ground between four appropriately spaced trees. I then set up my tent and stashed my food up in the air away from roving critters.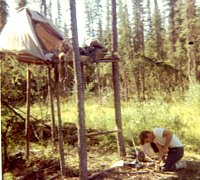 That's where I made my home for the next eight days while devoting my time to exploration.
I located and photographed long-deserted gold miners' camps and cabins scattered up and down the main river and its tributaries.
When the time came to make my turn and head for home, I hiked back to Fort Yukon expecting to catch a return flight to Circle.
But smoky forest fires burning up and down the Yukon River stymied my plans. Planes weren't flying because of poor visibility.
My Alaska motorcycle trip went on hold.
After three days of killing time in Fort Yukon, I convinced a local pilot to take me back to Circle.
Getting there was easy
My motorcycle was waiting patiently where I'd left it. I loaded on my equipment, headed back to Fairbanks and continued my Alaska motorcycle trip down the Alaskan Highway.
However, after a day of riding, troubles began. Flat tires, lots of them. My inner tubes were full of patches and the rear tire itself was just about shot.
Luckily, an angel of mercy came to my rescue. A local fellow heading down the highway with a large rack truck gave my motorcycle and me a 540-mile ride to the city of Fort St John -- located close to the beginning of the highway.
In Fort St. John, I ordered a new rear tire, tubes, rear chain and rear sprocket from a motorcycle supply house in Vancouver, which promised to fly the parts up to me.
But after six days of waiting and calling, nothing had arrived. I couldn't wait any longer. I had to get my Alaska motorcycle trip back on the road.
A local Dunlop tire shop and truck stop made some special repairs to my damaged tubes and tires. I planned to keep riding until I found a shop to replace them all.
Stranded on the prairie
I left Fort St. John in the late afternoon and rode about 200 miles. It was night time and I was about 30 miles past the town of Grand Prairie, Alberta, when my rear tire went flat for the second time that day.
I was out of spares and out of energy. I'd been grinding out the miles on my Alaska motorcycle trip for more then seven weeks.
I'd had enough.
I sat down on the side of the road, leaned against the motorcycle and looked up at the stars.
I was quite alone on this dark stretch of highway. No cars came by while I tried to decide what to do next.
About half a mile down the road, I saw the lights of a small cabin. I got up and started to push the motorcycle toward it.
The old gent who lived in the cabin answered my knock on his door and said it would be okay if I camped in his backyard.
He wasn't surprised to see me.
Apparently, other stranded travelers had passed this way before.
The next morning I hitched a ride back to Grand Prairie where the only motorcycle shop in town had one tire and one tube in stock that fit my motorcycle.
I bought them both, hitched a ride back to the cabin then attached the new combination onto the rear rim. Everything went together just fine.
On the road again
The next morning I was on the road again with renewed hope that my Alaska motorcycle trip would soon take me home.
It was now September and the weather was turning cold. Whenever I stopped for gas, the station attendants would be shivering while they filled my tank.
My motorcycle did not have a windshield. All I had between the weather and me was my leather jacket and pants and layers of clothing underneath. I fought the cold and fatigue and other distractions. I kept my eyes on the road and forged ahead.
That was my frame of mind when, a few days after leaving Grand Prairie, the Mountie pulled me over and asked for my license and registration.
The Mounties were looking for me
After about ten minutes, he stepped out of his car and walked back toward me. He looked right at me while he held my papers in one hand and taped them against the knuckles of his other hand.
"When was the last time you called your mother," he asked.
"What?"
"When was the last time you called home?"
I thought for a moment. The last time I spoke to my parents was on the radio-telephone in the airport in Fort Yukon.
Since then, I'd been too distracted or too miserable to call and burden them with my troubles.
"It's been almost a month," I said.
"Well, you're a missing person. The police in New Jersey put out an all points bulletin to find you. Call home and let your family know you're okay."
With that, he returned my license and registration and wished me a safe trip. I found a phone and called home.
One week later, after no further mishaps, I finally rolled into my driveway.
My Alaska motorcycle trip -- my odyssey -- was over.
I'd been on the road for 52 days and covered about 10,000 miles on two wheels and 540 in the back of a truck.
I believe I covered another 250 miles by air and on foot.
It was truly the trip of a lifetime.
I've heard that the Alaskan Highway has been paved and straightened since my Alaska motorcycle trip. In some respects, it might be a "kinder and gentler" highway than the road I traveled.
However, it's still not a road any rider can take lightly.
It's been a long time since I took that journey, and I'm starting to get the urge to see Alaska again.
And now, since the construction of the Trans-Alaska Pipeline, it's possible to drive above the Arctic Circle.
I'd really like to give it a try...another Alaska motorcycle trip...
Epilogue
Shortly before I left on my Alaska motorcycle trip, my father told me if I didn't return, he'd rent my room to another kid and pick up some extra money.
The evening I came home, some friends, who had a ten-year-old son, were visiting. They all came out of the house with my parents and gathered in the driveway when I drove up.
In my delirium and confusion, I saw this kid and figured, "I'll be damned. Dad actually rented out my room."
---
Do You Enjoy Motorcycle Stories?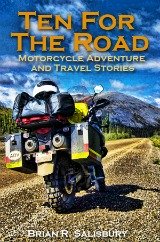 You can find a nice variety of motorcycle travel, adventure and riding stories in my "Ten for the Road" series of books.
Click here to zero-in on three collections of motorcycle stories for your reading pleasure…
---
---
Tell Us Your Motorcycle Riding Story
Share with us your motorcycle story -- or stories -- about a terrific ride, great destination or lessons learned...

---
Return from my Alaska Motorcycle Trip to the main
---
Let's stay in touch!
Get your free subscription to..."Savvy Motorcyclist E-zine"
And you'll also receive your free copies of..."The 10 Best Motorcycle Travel and Trip Planning Websites on the Internet" ... plus the Motorcycle Safety Foundation's 58-page Motorcycle Operator's Manual.
These great resources will help you to ride better, plan your trips, enjoy the best motorcycle roads and get the most out of motorcycle riding.

Custom Search