For Great Arizona Motorcycle Riding…See the Petrified Forest
...
   
Land of Stone Trees and Psychedelic Colors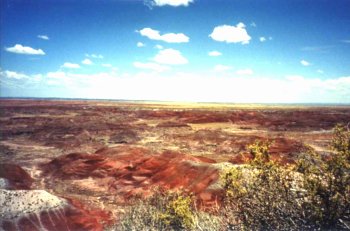 Great Arizona motorcycle riding includes a cruise through the Petrified Forest.
Here you'll see the stark beauty of sandstone badlands, tabletop mesas and trees turned to stone -- all painted in nature's own psychedelic colors.
As my friends and I drove our motorcycles deeper into desert country, broad bands of red and pink stood out in the sandstone hills around us.
The colors became even more vivid when we approached Albuquerque, New Mexico, where Route 40 passes between high, colorful sandstone formations just east of the city.
The region's stark beauty -- which makes for great Arizona motorcycle riding -- became most apparent when we entered Petrified Forest National Park.
It's located off Route 40, just about 30 miles east of Holbrook, Arizona, in the east-central portion of that state.
The park, established in 1962, preserves 93,533 acres of arid terrain containing colorful concentrations of petrified wood and archeological treasures.
Without such protection, by now, opportunists would have mined and sold the petrified trees and other artifacts as tourist trinkets, thus destroying this window on the ancient world.
Park rules prohibit visitors from removing or disturbing pieces of petrified wood, fossils or rocks.
A vibrant experience...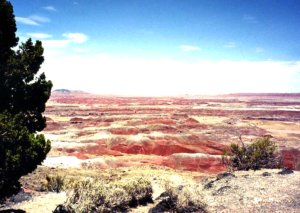 Petrified Forest park encompasses the brightly-colored Painted Desert and Rainbow Forest.
Together they include six separate forests containing multicolored badlands and vast mesas that are strewn with fossils, petroglyphs and pueblo ruins.
A trip through the park's colorful moonscape provides a surreal departure into land rich in cultural, geologic, archeological and spiritual history.
The 28-mile-long road through the park, which includes eight scenic overlooks, gave us a lasting impression of the area.
Adventurous souls who choose to hike through this trailless wilderness can explore less accessible locations containing the ruins of dwellings and rock formations decorated with prehistoric habitants' drawings and carvings.
We stuck to the scenic drive that took us first through the Painted Desert.
Even though we'd been riding for days through colorful terrain, the Painted Desert's extremely vibrant coloration immediately impressed us.
Wide veins of red, tan, beige, white, black and pink course across the ground. The colors penetrate the tabletop mesas and tepee-like badlands formations that dominate the area.
The colors' intensity and shading, and the land's visual texture changed as clouds moving across the sky filtered and redirected the sunlight.
It's not really a desert...

We learned that while the Painted Desert receives only nine inches of annual rainfall, in reality it's not a desert. It's a mosaic of plant communities and ecosystems called a shortgrass prairie.
The Petrified Forest is technically an "extreme tension zone" that's not quite a desert or a prairie. Grasses and shrubs have adapted to survive the wind, limited water and soil types found here.
We continued our loop though the park and came to the Rainbow Forest. The trees-turned-to-stone in this area give the Petrified Forest its name.
How wood turns to stone...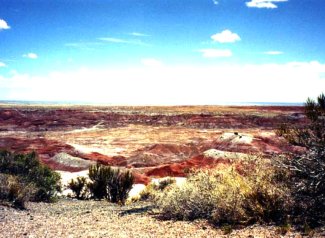 At one time, this high, dry tableland was a vast floodplain crossed by many streams and covered with redwood forests.
As the trees toppled from age, layers of silt, mud and volcanic ash covered the fallen trunks and slowed their decay.
Gradually, silica deposits in the groundwater seeped through the logs and, bit by bit, replaced the natural wood. After 200 million years, the silica crystallized into quartz and turned the logs to stone -- preserving them as petrified wood.
Even though they are stone, the logs still resemble cracked and broken redwood trunks toppled in the forest. Some are as large as 100 feet long and 6 feet in diameter.
The Petrified Forest is a unique area of the country that you easily can see in broad strokes in a few hours along this scenic drive. The experience leaves an indelible impression of the area's beauty and solitude.
After completing our trip through the park, we returned to Route 40 and continued west.
Weathering the storm...and heading for more Arizona motorcycle riding...

We soon drove into an afternoon downpour. At times, the rain was intense but I didn't put on my raingear.
The flat, wide-open terrain gave me a clear view for miles ahead. I could see where the storm ended and the bright sky began.
I knew I'd make it comfortablybly that far...and the hot desert sun would dry my clothes when I emerged from under the rain clouds.
---
Do You Enjoy Motorcycle Stories?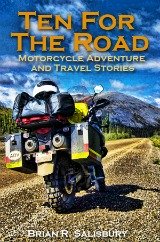 You can find a nice variety of motorcycle travel, adventure and riding stories in my "Ten for the Road" series of books.
Click here to zero-in on three collections of motorcycle stories for your reading pleasure…
---
---
Tell Us Your Motorcycle Riding Story
Share with us your motorcycle story -- or stories -- about a terrific ride, great destination or lessons learned...

---
Return from Arizona Motorcycle Riding
---
Let's stay in touch!
Get your free subscription to..."Savvy Motorcyclist E-zine"
And you'll also receive your free copies of..."The 10 Best Motorcycle Travel and Trip Planning Websites on the Internet" ... plus the Motorcycle Safety Foundation's 58-page Motorcycle Operator's Manual.
These great resources will help you to ride better, plan your trips, enjoy the best motorcycle roads and get the most out of motorcycle riding.

Custom Search