When Death Valley Motorcycle Riding…
Check out the Amargosa Opera House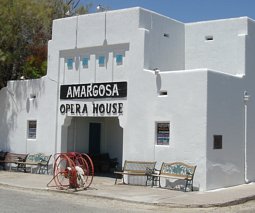 If you have a chance to experience Death Valley motorcycle riding, try to include a visit to the Amargosa Opera House. 
You'll find it in its own little town of Death Valley Junction, California, a short way from the national park's eastern boundary. 
This cool little artistic oasis has been hosting and entertaining visitors in Death Valley's scorching heat since 1968. 
That's when Martha Becket, the establishment's unique creator, savior and driving force first opened its doors as a playhouse.
Here's the story…
Death Valley -- the hottest place in North America...
From the 1870s into the early 1900s -- with the discovery and mining of gold, silver, copper, lead and other minerals -- this blistering expanse of California and Nevada desert spawned rough and tumble towns with names as unlikely as Bad Water, Chloride, Furnace Creek and Stove Pipe Wells.
One newspaper of the day called Panamint City the "roughest, rawest, most hard-boiled little hellhole that ever passed as a civilized place to live."
And let's not forget the town of Skidoo, the site of Death Valley's only hanging.
That's where the locals strung up Hootch Simpson -- not just once, but twice. The first time for killing a storeowner and the second to accommodate news photographers who missed Mr. Simpson's initial swing into the great beyond.
Characters like One Eye Thompson, Shorty Harris, Countess Morajeski and Death Valley Scotty each added a savory pinch of personality to the area's frontier quality.
And even after the mines closed and the boomtowns turned to ghost towns, Death Valley continued to attract hardy, adventurous individuals with an affinity for this hot, rugged, inhospitable place. And it still does.
Some are drawn in by the desert's austere beauty, and others see opportunities where most do not.
Meet the diva of the desert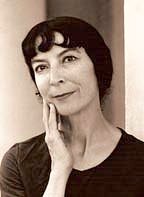 Such a person is Marta Becket, diva of the Amargosa Opera House.
Since 1968, this (then) 44 year-old ballerina and actress who once danced and sang on Broadway in New York City, has been singing and dancing in her own productions in her own theater in her own town of Death Valley Junction.
Here, her inspiration has turned virtually nothing into something amazing -- an artistic oasis in the desert.
As a young woman, Ms. Becket appeared in Broadway productions including "Showboat," "A Tree Grows in Brooklyn," and "A Wonderful Town." But she craved to dance her own dances, design her own costumes and create her own shows. This is exactly what she did when she took her solo performance on the road.
Married in 1962, Marta and husband Tom found themselves in California during the spring of 1967. After months of touring and presenting her one-woman theatrical revue to audiences throughout the country, they decided to spend a week camping in Death Valley.
One morning, when they saw their trailer had a flat tire, they headed to a garage in Death Valley Junction, located a few miles west of the California-Nevada border.
Martha's Inspiration
While Tom tended to the tire, Marta explored the town's old adobe buildings, including an abandoned theater.
She peered inside and saw several rows of wooden benches facing a small stage. Dust and debris covered the theater's warped and buckled floor.
It would be an understatement to say the experience profoundly affected Marta. It actually became the driving force in her life and the inspiration for the Amargosa Operta House from that point on.
The next day, the couple struck a deal with Death Valley Junction's town manager. They'd rent the theater for $45.00 a month and handle all repairs themselves. Originally called Corkhill Hall, Marta renamed the theater the Amargosa Opera House.
The Pacific Coast Borax Company built the theater and everything else in Death Valley Junction during the early 1920s.
The Mexican colonial style adobe buildings housed the company's offices, store, dormitory, 23-room hotel and dining room.
The theater doubled as a community center for dances, church services, movies, funerals and town meetings.
When the mining company moved out, the abandoned town drifted into ruin.
The First One-Woman Performance
Marta gave her first performance at the Amargosa Opera House on February 10, 1968. With rain beating down outside, she danced, sang and acted for an audience of 12.
Until only recently, the doors opened without fail every Friday, Saturday and Monday night at 7:45 p.m., and the curtain parted at 8:15 p.m.
Currently, from October to May, the 120-seat Amargosa Opera House presents one performance a week on Saturday nights. The building lacks air conditioning, so the house goes dark when temperatures reach triple digits.
At first, audiences consisted of a smattering of area residents and tourists. No matter what, the show went on, even when the house was empty.
But when word of Marta's unique one-woman revue in the desert began to spread, people visiting Death Valley National Park began visiting the opera house too.
Busloads of foreign tourists added the opera house to their itineraries. And others seeking an escape from Las Vegas's high-octane glitz, traveled the 75-miles to Death Valley Junction to take in Marta's performances.
National Geographic did an article about Marta that helped immensely to publicize the opera house.
She Created Her Own Permanent Audience
But even these significant successes didn't guarantee a packed house every time the curtains parted. To remedy this situation, in 1968 Marta decided to fill the theater permanently by painting her own eclectic audience on the building's walls.
Four years later, colorfully clad 16th century nobles, monks and nuns, along with bullfighters, gypsies, opera characters and even Marta's two cats adorned every vertical surface inside the theater.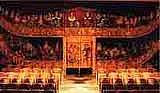 She then spent two more years on a scaffold painting the ceiling with even more characters.
Improvements continued throughout the intervening years when, in 1981, a specially formed corporation bought the entire town. Subsequently, Death Valley Junction and the Amargosa Opera House were listed in the National Register of Historic Places.
In April 1984, the opera house paid off the mortgage on Death Valley Junction, which essentially granted Marta ownership of the town and everything in it.
Some may wonder, throughout this entire saga, what ever happened to Marta's husband, Tom, whom we left fixing the trailer's flat tire.
Reports are that around the time Marta was populating the theater walls and ceiling with her own imaginary audience, Tom's interest in the opera house waned. He exited, stage left, to pursue other interests.
My Visit to the Opera House
My own introduction to the Amargosa Opera House and hotel occurred quite by chance last summer when a riding buddy and I decided to take a cruise from Las Vegas to do a bit of Death Valley motorcycle touring.
Traveling along California Route 190, we passed through Death Valley Junction on our way to the park's east entrance.
But only a few miles later, a road barrier prevented us from continuing our Death Valley motorcycle ride.
Heavy rains had washed out large sections of the park's interior roads, which restricted travel through many areas.
We circled back to Death Valley Junction and stopped to explore this complex of adobe buildings.
At the time, I was not aware of the buildings' history or even the existence of the opera house.
However, before I could start looking around, a huge peacock -- yes a peacock -- strolled over to scrutinize me. While I've never heard of an attack peacock, I didn't move until the bird lost interest and strutted away.
After checking out the hotel lobby and gift shop, and leafing through some of the books and pamphlets that enlightened me to the buildings' history and significance, I walked over to the opera house.
Unfortunately, just like Death Valley, it was also closed.
I had never been to that area of the country before, and I don't know when I'll return to take another Death Valley motorcycle ride.
But, if I do, I will definitely take a ride to Death Valley Junction on a Saturday night to see Marta Becket dance and sing and act at the Amargosa Opera House.
Epilogue...
Since writing the above account in 2005 of my Death Valley motorcycle ride and "discovery" of the Amargosa Opera House, Martha Becket gave her last performance at her beloved theater on Feb 12, 2012.
As of this writing in April, 2014, she is still very much involved in the theater's artistic direction and overall well being.  It is now owned by Martha's not-for-profit organization.
And I've yet to return to Death Valley Junction and step inside the Amargosa Opera House.
*****
---
Do You Enjoy Motorcycle Stories?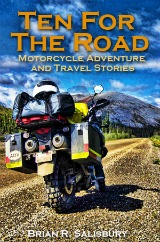 You can find a nice variety of motorcycle travel, adventure and riding stories in my "Ten for the Road" series of books.
Click here to zero-in on three collections of motorcycle stories for your reading pleasure…
---
Tell Us Your Motorcycle Riding Story
Share with us your motorcycle story -- or stories -- about a terrific ride, great destination or lessons learned...

---
Return from Death Valley Motorcycle Touring to the main
Motorcycle Riding Stories page…
---
Let's stay in touch!
Get your free subscription to..."Savvy Motorcyclist E-zine"
And you'll also receive your free copies of..."The 10 Best Motorcycle Travel and Trip Planning Websites on the Internet" ... plus the Motorcycle Safety Foundation's 58-page Motorcycle Operator's Manual.
These great resources will help you to ride better, plan your trips, enjoy the best motorcycle roads and get the most out of motorcycle riding.

Custom Search