Italy on a Motorcycle...
Cruising Along the Amalfi Coast


My visit to Italy on a motorcycle took me to the town of Amalfi. Actually, I rode along the entire Amalfi Coast.
The region is world famous for its sumptuous food, great hotels, stunning landscapes, laid-back atmosphere and turquoise water.
Plus, for two-wheeled travelers, another great attraction of riding through Italy on a motorcycle is experiencing Amalfi Drive -- considered one of the most beautiful coastal highways in the world.
But beware, the action can be hot and heavy as motorcycles and motor scooters vie with cars, vans and tour buses for limited space while speeding along this twisty, two-lane, cliff-hugging road.
Anyone who has cruised along the California coast on Highway 1, or circled Nova Scotia's Cape Breton Highlands on the Cabot Trail has an inkling of Amalfi Italy's magnificent ocean setting and the allure of Amalfi Drive's challenging curves. 
This road is one more reason to see Italy on a motorcycle.
However, this cliff-hugging road is also an improbable feat of engineering. It is amazing that someone considered building a road this dizzying and demanding in the first place along the steep Amalfi coast.
It is actually a grand expansion of centuries-old walkways and footpaths worn into the mountains hundreds of feet above the Tyrrhenian Sea.
Located along a small peninsula on the southwestern side of the country, the Amalfi region's precipitous coastline meanders some 43 miles from Sorrento to Salerno.
Amalfi Drive, carved into steep limestone cliffs that tower cathedral-like above the sea, connects these two larger cities at either end while passing through the sun-drenched towns of Positano, Amalfi and Ravello.
A thousand turns and a thousand views
The road gyrates through at least a thousand turns, each offering an awesome view of mountains, cliffs and sea.
Pastel colored villas surrounded by bougainvillea, olive groves, lemon and fig trees crowd the coves at sea level and climb the steeply terraced hills above the blue water.
In places, where the road is extremely narrow and curvy, cars traveling in opposite directions can drift dangerously close to each other.
And during the vacation season, lumbering tour busses clog the flow of traffic -- especially when they meet head-on and have only inches to spare when passing.
Along sections where the cliffs are particularly sheer, concrete structures support the roadbed as it follows the wavy contours of the cliff face. Looking up from the sea, the drive looks like a long, curvaceous concrete balcony.
Aggressive driving and loss of focus have caused many drivers to crash into the cliff face or against the outside guardrail. Some have actually gone over the rail.
While touring Italy on a motorcycle, I visited the town of Vico Equense, located a few miles north of Sorrento.  I had the opportunity to borrow a friend's BMW R1100RT and experience first hand this road's twists, turns, splendid views and frenetic pace.
I took advantage of the Amalfi region's sunny summer weather to enjoy a day of cruising, to see Italy on a motorcycle and explore three of the region's most popular towns -- Positano, Amalfi and Ravello.
I started my adventure by joining the flow of early morning traffic heading south out of Vico Equense. After passing through Sorrento, the road emerged over the Gulf of Salerno and took on its famous cliff-hugging character.
Buzzed by two-wheeled mosquitoes
I learned quickly that touring Italy on a motorcycle and navigating along this road's continuous twists and turns requires a high degree of care and vigilance.
In addition, numerous motor scooters weave in and out of traffic to make driving along this two-lane road a hair-raising experience.
Actually, the majority of two-wheeled riders -- men and women -- who zip along the drive are piloting scooters, not motorcycles.
Most are heading to or from work wearing business suits, and some are returning from the market with bags of groceries wedged between their knees.
During this day of traveling through Italy on a motorcycle, a few scooter drivers who passed me had their pet dog or cat perched in their lap. It was quite a sight to see these trusting little animals leaning left and right as their masters swerved through the turns.
The good thing is that people driving cars and other vehicles are very forgiving when it comes to letting motor scooters pass and cut into traffic.
Apparently, being buzzed by swarms of two-wheeled locusts is a familiar experience along this famous Amalfi Drive. I got used to it very quickly during my ride along this section of Italy's western coast.
See the the Sirens of Li Galli when touring Italy on a motorcycle
As I looked out over the Tyrrhenian Sea while approaching the town of  Positano, I could see the island of Capri far in the distance. And right below were the "Siren" islands of Li Galli.
According legend, the mermaids swimming in these waters blend their enchanting voices with the night winds and stormy seas to lure sailors into the jagged cliffs surrounding this small group of islands.
This is where Homer's mythical hero Ulysses ordered his crew to tie him to the ship's mast then plug their ears so only he could hear the Sirens' enticing song.
When his ship sailed past Li Galli, Ulysees fought to free himself so he could dive into the sea and join the Sirens. But the ropes held, and the ship traveled to safer waters.
Within a short distance from Li Galli, I reached the turnoff to Positano. Built on both sides of a narrow gorge, Positano's bright stucco homes, hostels and shops cling to the Lattari Mountains like barnacles on a ship's hull. This could be the most vertical town in Italy.
Boutiques and fashionable shops galore
I descended the narrow, one-lane, one-way, switchback road that goes only as far as Positano's tiny main square. From there it heads back up the cliffs to link with the twisty road.
Fashionable clothing and jewelry boutiques, restaurants, art galleries and hotels line this narrow road through Positano from top to bottom. Most restaurants set up tables outside where diners can enjoy Italy's pleasant weather.
Two-wheeled vehicles can park along the narrow road that enters and exits town. Others must find refuge in one of Positano's two or three parking garages.
Easy parking...another reason to see Italy on a motorcycle.
From the main square, a wide walkway lined with more shops, boutiques, galleries, a hotel or two and great restaurants rambles down to the sea.
Here and there, it branches into narrow flower-bedecked alleys, sidewalks, stone stairways and small plazas that invite exploration.
The harbor provides a popular launch point for boats traveling to other coastal towns and to the island of Capri.
Private boats and luxury yachts of all sizes anchor in the bay while those aboard come ashore to lounge on the beach and otherwise enjoy Positano.
Amalfi on the Mediterranean
After strolling through Positano, I ascended the cliff road, rejoined the main road and continued my ride to the town of Amalfi, which gives its name to the entire coast.
Similar to Positano, Amalfi is a tightly packed cluster of colorful homes, shops and other structures built on a mountain slope.
The road down to Amalfi offers a spectacular view of this seaside resort as it winds toward the town's main square. Here, the Cathedral of Saint Andrew dominates the town center atop a towering flight of stairs.
Considered one of the most stunning buildings in southern Italy, this huge Sicilian-Arab cathedral stands as a reminder that at one time Amalfi was a large and powerful seafaring city.
Today it is the destination of choice for tourists from all over the world.
I huffed and puffed up the long flight of stairs to first marvel at the cathedral's huge, centuries-old bronze doors crafted in Constantinople. Then I entered to look inside.
After a brief walk around town, I rode back up to Amalfi Drive and followed a winding road up "Dragon's Valley" to the hilltop town of Ravello.
Ravello -- an inspiration for artist and musicians
Located on a ridge overlooking the Gulf of Salerno and directly above Amalfi, this little town has appealed for centuries to internationally famous writers, artists and musicians.
Along with Positano, Ravello defines the Amalfi Coast, and is regarded by many as one of the most beautiful towns in Italy. It owes much of its fame to its dramatic location, perched 1,150 feet above the sea where cool breezes temper the summer heat.
I took a walk through the gardens of Villa Rufolo, the site of classical music concerts throughout the summer. These very gardens inspired Richard Wagner to write his opera "Parsifal" and many other musical compositions.
Then I sat down and looked out over the Gulf of Salerno to drink in the view. What a day it had been, visiting some of the most beautiful towns in Italy.
And now I could link up again with Amalfi Drive to enjoy this magnificently twisty highway and its spectacular views as I drove back to Vico Equense where my tour of Italy on a motorcycle had begun.
*****
---
Do You Enjoy Motorcycle Stories?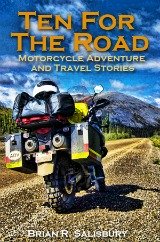 You can find a nice variety of motorcycle travel, adventure and riding stories in my "Ten for the Road" series of books.
Click here to zero-in on three collections of motorcycle stories for your reading pleasure…
---
Tell Us Your Motorcycle Riding Story
Share with us your motorcycle story -- or stories -- about a terrific ride, great destination or lessons learned...

---
main Motorcycle Riding Stories page…
---
---
Let's stay in touch!
Get your free subscription to..."Savvy Motorcyclist E-zine"
And you'll also receive your free copies of..."The 10 Best Motorcycle Travel and Trip Planning Websites on the Internet" ... plus the Motorcycle Safety Foundation's 58-page Motorcycle Operator's Manual.
These great resources will help you to ride better, plan your trips, enjoy the best motorcycle roads and get the most out of motorcycle riding.

Custom Search