Cortech Super 2.0 Sport Tail Bag
Gives You High-Quality Convenience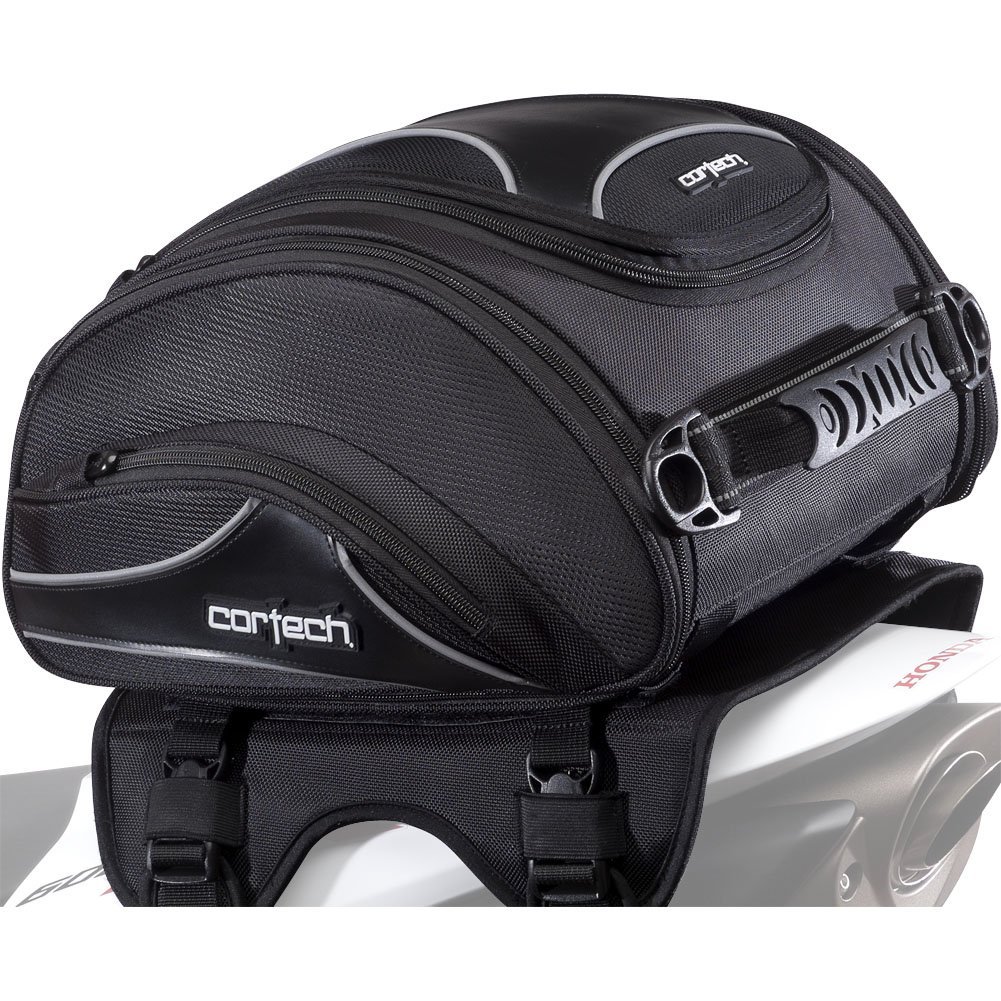 The Cortech Super 2.0 sport tail bag I attach to the back seat of my BMW R1100RT is great for weekend jaunts...and longer.
The tail bag's various hooks, cords and clips tuck out of sight when the case is not on your bike. This makes it a very presentable and versatile piece of soft-sided, carry-around luggage.
Perfect for a weekend
I frequently use this tail bag to carry gear for short trips -- particularly when I don't need lots of clothes that necessitate attaching my bike's hard-sided saddlebags.
When I reach my destination, I can get to my gear quite easily while the tail bag is still on the bike. Or I can detach it and carry it inside like a regular piece of soft-sided luggage.
---
Click here for a great place to find a great tail bag
---
This tail bag's features
Here are features the Cortech sport tail bag gives you…
Dual mounting capability for solo use or with Cortech saddlebags
Quick release buckles for Cortech saddlebag attachment
Built-in hide-away bungee cords
Durable 1680 Denier ballistic nylon construction
Hefty zippers and zipper pulls pulls
Space to carry laptops with displays as large as 17 inches
Expandable main compartment
Soft interior lining
Neoprene pad on the bottom to protect your bike's paint
Easy access, top-loading main compartment
Organizer compartment inside the top flap
Reflective striping and logo
Comfortable rubberized carrying handle
Adjustable shoulder strap
Rain cover
The bag measures 13.4-inch long, 14.2-inch wide by 7.5-inch deep to give you a 24-liter capacity.
I created my own tail bag attachment system by fastening two female quick-release clips at the very back of my bike's passenger seat. They enable me to use the bag's matching quick release clips to secure one end of the bag.
Then I thread an adjustable strap through each "D" ring on the handle and snug down the bag's other end.
This four-point attachment system holds the bag solidly in place and keeps it out of my way on the passenger seat. But I can still detach it quickly when I reach my destination.
You have lots of options when it comes to selecting a tail bag. This one works very well for me.
In my continuing efforts to provide you with the best information possible, I've discovered a wonderful resource where you can pick up a Cortech motorcycle tail bag or to select another tail bag choice for your bike…
---
Click here to zero-in on your own tail bag…
---
Return from the Cortech Sport Tail Bag to the main Motorcycle Tail Bag page…
---
Let's stay in touch!
Get your free subscription to..."Savvy Motorcyclist E-zine"
And you'll also receive your free copies of..."The 10 Best Motorcycle Travel and Trip Planning Websites on the Internet" ... plus the Motorcycle Safety Foundation's 58-page Motorcycle Operator's Manual.
These great resources will help you to ride better, plan your trips, enjoy the best motorcycle roads and get the most out of motorcycle riding.

Custom Search